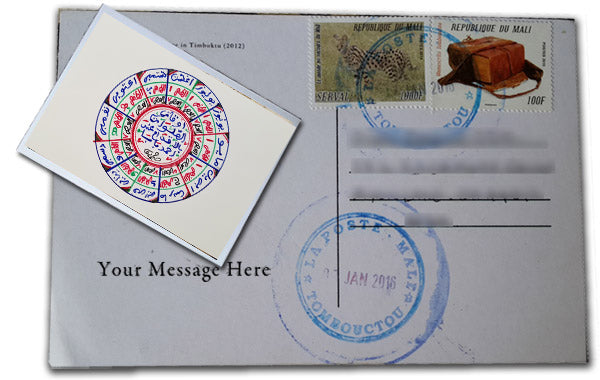 0. Custom Calligraphy Postcard
Boubacar Sadeck is considered to be Timbuktu's last master calligrapher. After the 2012 occupation of Timbuktu by jihadists and other armed groups, Boubacar fled to Bamako. He is currently training a group of young apprentices who he hopes will be able to continue this ancient craft. 
We have teamed up with Boubacar to offer custom calligraphy pieces. These are one of a kind items that showcase one of northern Mali's dying arts. In addition to full page (A4) custom calligraphy, we are now offering several postcard designs as well. 
We currently have two designs: (1) a solar calendar used to track times of prayer
(2) a poem: "beautiful writing represents the language of the hand and the joy of the heart" 
 (3) This is another poem, specifically about Timbuktu:
"Salt comes from the North, Gold from the South and
money from the land of white people.
But God's words, sacred things, knowledge and history,
we only find them in Tombouctou"