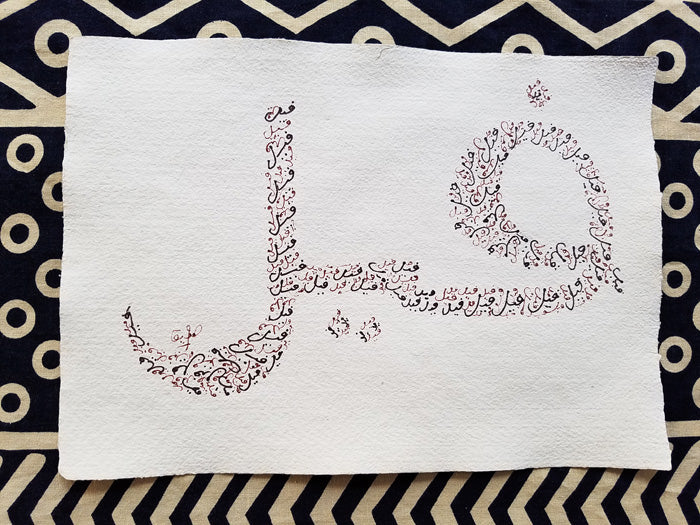 0. Custom Calligraphy from Timbuktu's last Master Calligrapher
Boubacar Sadeck is considered to be Timbuktu's last master calligrapher. After the 2012 occupation of Timbuktu by jihadists and other armed groups, Boubacar fled to Bamako. He is currently training a group of young apprentices who he hopes will be able to continue this ancient craft. 
We have teamed up with Boubacar to offer custom calligraphy pieces. These are one of a kind items that showcase one of northern Mali's dying arts. 
At the moment, he is doing full page (A4) pieces based on a name or a word as well as several postcards featuring his calligraphy. The full page pieces are made to order and completely unique. At the moment the messages are limited to 12 characters. Shipping is free. 
With Bogolan Background
Bogolan is known as mudcloth and it is hand spun and hand dyed in Mali. One of our clients made a custom request for a piece of bogolan fabric that she wanted to use to frame the calligraphy. We liked her result so much that we are now offering this option for everyone. Select "with bogolan background" and for an additional $20 we will send you a piece of bogolan that you can use as a backdrop for the calligraphy. The frame from this photo is not included (only the cloth itself):