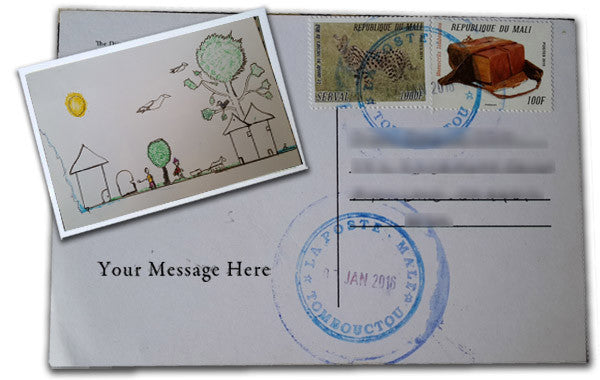 A Hand drawn postcard
This is a hand drawn postcard designed by a student in Timbuktu. Each postcard offers a 100% unique design originating from the imagination of a student in Timbuktu. Whatever shows up will be an absolute surprise, but here are a few examples of previously ordered cards: 
In addition, $2.50 in cost for this postcard is donated to the Alpha Daouna school in Timbuktu. The Alpha Daouna school was one of the schools that we helped during the COVID outbreak in Timbuktu. They are in need of everything from chalk to benches for the kids to sit on. Every card ordered helps them better serve the students.  
Instructions:
1. Add a custom message that you want to be written on your postcard in the box to the left. The person will not be able to tell who it is from unless you include your name somewhere in the message. Of course, feel free to keep it anonymous. 
2. Click on add to cart.
3. Provide their shipping address and your email address on the checkout page (unless you want to send the postcard to yourself).