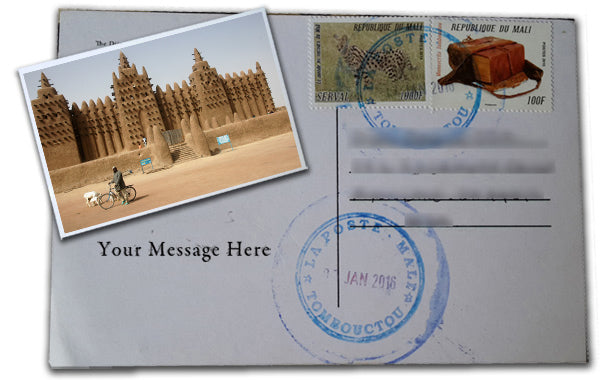 4. Great Mosque of Djenne
The Great Mosque of Djenne is the largest adobe structure in the world. The current structure dates from 1907, but the original mosque was built in the 13th century. As well as being the center of the community of Djenné, it is one of the most famous landmarks in Africa. Along with the "Old Towns of Djenné" it was designated a World Heritage Site by UNESCO in 1988.
Instructions:
1. Add a custom message that you want to be written on your postcard in the box to the left. The person will not be able to tell who it is from unless you include your name somewhere in the message. Of course, feel free to keep it anonymous. 
2. Click on add to cart.
3. Provide their shipping address and your email address on the checkout page (unless you want to send the postcard to yourself).