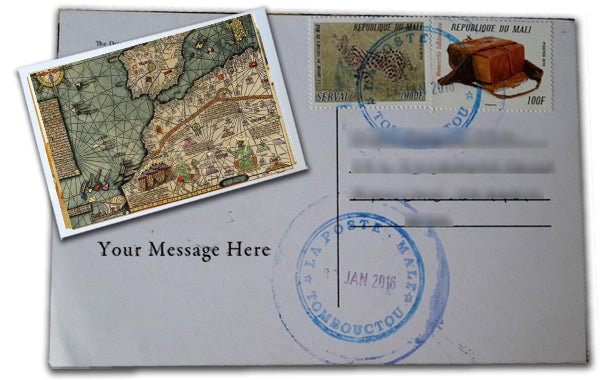 4. 14th century Catalan Atlas with Timbuktu and Mansa Musa
This is a small section of a famous map known as the Catalan Atlas, produced in 1375. The Atlas is attributed to Abraham Cresques, a Jewish book illuminator and map-maker. The original version is housed at the Bibliothèque Nationale de France. (from UC Berkeley)
Timbuktu was already a center of trade and learning before Mansa Musa arrived, but it was after he annexed the city to his empire, following his hajj to Mecca, that Timbuktu truly prospered. Musa oversaw the construction of the Djinguereber Mosque and he expanded and re-staffed the Sankore university. The latter was soon capable of hosting 25,000 students and the book collection was the largest in Africa since the library of Alexandria. 
In this excerpt of the Catalan Atlas, both Musa and TImbuktu are featured prominently. Timbuktu is just down and right from the center of the map with all lines converging on it and Musa is in the lower right holding a gold nugget. 
Instructions:
Add a custom message that you want to be written on your postcard in the box to the left. The person will not be able to tell who it is from unless you include your name somewhere in the message. Of course, feel free to keep it anonymous. 
Click on add to cart.
Provide their shipping address and your email address on the checkout page (unless you want to send the postcard to yourself).