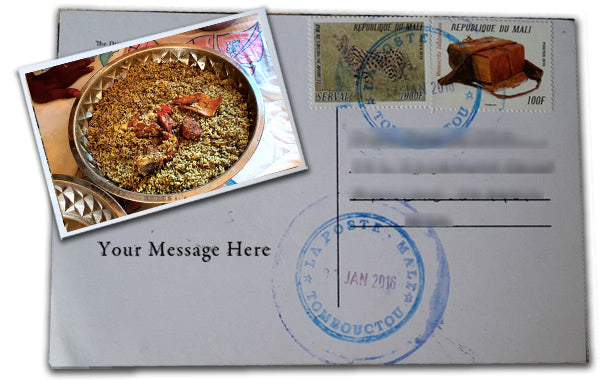 2. Labadja Postcard with Recipe on the Back
This is a dish from northern Mali, particularly popular in Timbuktu. It is a beef and rice dish, but can be made with other ingredients. You could even make it vegetarian if you'd like, but someone from Timbuktu would probably consider that to be sacrilegious.
The front of the postcard has a picture of the dish and the back has the recipe.
There is space to write a short message (140 characters, the length of an original tweet) to the recipient. For more information on the dish, here is
an article
about it. 
. 
Instructions:
1. Add a custom message that you want to be written on your postcard in the box to the left. The person will not be able to tell who it is from unless you include your name somewhere in the message. Of course, feel free to keep it anonymous. 
2. Click on add to cart.
3. Provide their shipping address and your email address on the checkout page (unless you want to send the postcard to yourself).